Skip to Content
Skabelund Roofing Knows Roof Shingles
Skabelund Roofing installs and repairs asphalt roofing shingles on homes around Logan and Layton, Utah. There are many different materials used for roof shingles, but there is a reason that asphalt shingles are the most popular. We have various types of roofing materials, including asphalt shingles and metal roofing. We can create nearly any color or style you want for your home's roof. Experts say that a new roof can add over $15,000 to a home's resale value. So, when we finish the work, your property value will go through the roof.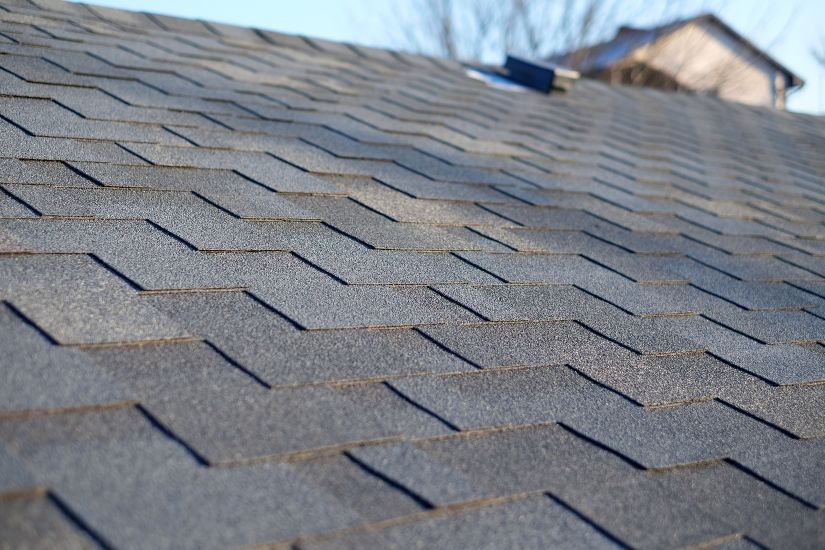 What Is an Asphalt Shingle?
You will see asphalt roofing shingles on most roofs when you drive down the street. The average person never wonders about the anatomy of a shingle. An asphalt shingle, of course, has an asphalt coating that protects your roof from rain, snow, sleet, and hail. There is more to it than that, though. Asphalt shingles have a base mat that usually consists of fiberglass. This acts as the shingle's skeleton. Then, the manufacturer coats the mat with asphalt. Finally, mineral granules cover the top of the shingle. These minerals protect your roof from the sun's UV rays and contain some fire-resistant properties.
Benefits of an Asphalt Shingle Roof
Asphalt roofing shingles are a very attractive option when choosing the materials for your next roof. There are several reasons people tend to go with asphalt shingles. Asphalt shingles often give you the most bang for your buck. They are an affordable roofing option that offers many advantages over more pricy options like wood, clay, slate, and plastics. The main advantages of asphalt roof shingles are:
Color and Style Options – Asphalt shingles come in various colors, and we can arrange them in many different patterns. This lets you create unique designs.
Energy Efficient – If you pick the right color of shingles, they can effectively reduce your energy consumption by reflecting a significant amount of light away from your home.
Impact Resistance – Many companies make asphalt shingles that are designed to resist the impact of severe weather and high winds.
Fire Resistance – Some asphalt shingles have a Class A fire-resistance rating, meaning they can protect your home from potential fire hazards that may fall onto your roof.
Easy to Repair – When there is damage to a section of shingles, it is easy to replace a single section at a time. Many other options require widescale repairs, even if a small section is compromised.
Different Types of Shingles
Our asphalt roofing shingles come in over 20 different styles and colors. We carry various styles of Tamko brand shingles. Roofing contractors across the world respect the asphalt roof shingles made by them. The Tamko Woodgate series provides a prestigious wooden aesthetic while still having the benefits of asphalt shingles. Tamko's heritage series offers a wider variety of colors and styles. The options are:
Cabin Wood Brown
Weathered Wood
Antique Wood
Black Sage
Cedar Wood
Rustic Redwood
Rustic Evergreen
Autumn Brown
Black Walnut
Old English Pewter
Rustic Black
Rustic Cedar
Painted Desert
Rustic Slate
Harvest Gold
Thunderstorm Gray
Rustic Redwood
Natural Timber
Mountain Slate
Weather Wood
Local Roofing Contractors With World-Class Standards
Martin Skabelund, owner of Skabelund Roofing, is the son of a roofer. He learned how to properly work on roofs at a young age. So, we have developed our practices and techniques over not just years but generations. When we come to work on your roof, you can rest assured that we have seen it all and done it all. We can prepare you for everything to expect with more precision than nearly any other roofing contractor. As licensed contractors, you can expect quality from us. Our team completes all jobs in a timely fashion. Afterward, we clean up the mess. So, the only sign that we were ever there is your beautiful new roof. Chances are you have already admired our work around the Utah area.
Replace Your Old Roof With Asphalt Roofing Shingles
When it's time to get your roof replaced or repaired, you want a team with experience. We have been fixing up roofs in the community for over 30 years. Our name is known and respected around Utah. This is because we go through a detailed process when you choose us to work on your roof. Our team starts by helping you choose the color and style of asphalt roofing shingles that are best for your home. Then, we schedule a date and time to come do the work. We can give you accurate estimates of how long the work will take. When we finish, we clean up any supplies or leftover debris from your old roof. If you are ready to get your new roof installed, fill out our contact form here or call us directly.
We Take Quality to New Heights