Skip to Content
Gutter Repair in Logan, UT
Premier Gutter Repair Services in Logan, UT
Skabelund Roofing offers premier gutter repair services to residents of Logan, UT. Whether you need rain gutter repair or gutter replacement service, we've got you covered. Our gutter repair specialists are fully insured and highly trained, ensuring they are capable and qualified to tackle all your gutter repair needs. Gutter repairs can become necessary when water penetrates beneath the shingles of our house. This can result in interior water damage to your home, something every homeowner would much rather avoid. If the condition of your gutters is less than optimal, you've come to the right place. Our roof and gutter repair services will ensure things are back in proper working order in no time.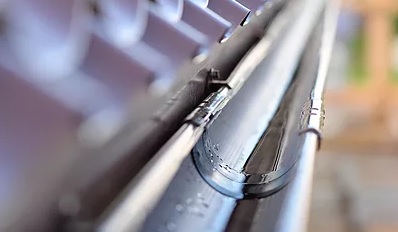 Why is Gutter Cleaning Important?
Routine gutter repair and gutter cleaning can save you a lot of money in the long run. Not only can debris collect in your gutters, but it can block water from flowing outward. While you can clean your gutters on your own, you can save time and get the job done right the first time when you hire the professionals at Skabelund Roofing. Proactive gutter cleaning will help reduce the number of times you will need gutter repair. Hiring professionals for gutter maintenance services between one and two times a year will produce optimal results, ensuring your gutters continue to function correctly.
Why Do I Need Gutter Services?
Gutters are crucial when it comes to protecting your home from water damage. Not only do they redirect moisture and water away from your home, but they help prevent soil erosion and foundation and structural damage as well. They do this by guiding water away from your home. If your home is without gutters, we can help. Skabelund Roofing offers premier gutter installation.
Thorough Repair From Expert Gutter Technicians
No matter how prepared you are in your gutter maintenance, the potential for something to go wrong is always present. For times when a problem does occur, Skabelund Roofing is here for you. Our expert team offers top-of-the-line gutter repair services that can fix any gutter-related problem. We are trained in numerous common problems homeowners encounter with gutters, and we can help you get to the bottom of yours. Common issues that call for gutter repair include:
Impacts from branches and other heavy objects
Snow or ice buildup
Aging system
Water overflow
Signs That You Need Gutter Repair
Perhaps you haven't had your gutter cleaned or inspected in a while. It's perfectly reasonable that you may not know whether your gutter needs repair. Many gutter issues don't become apparent until it's too late to be fixed with quick repairs. It's never too early to request gutter services for your Utah home. If you notice any of the following warning signs, get in touch with the professionals at Skabelund Roofing to schedule gutter cleaning and repairs:
Uneven gutters
Gutters pulling away from the siding
Water collecting along your home's foundation
Peeling paint
Rust
Leaks
Why Choose Skabelund Roofing?
Not only do we have years of experience in the industry, but Skabelund Roofing has been providing Logan, UT homeowners with the best in gutter repair services for years. We strive to help our valued customers prevent unnecessary damage to their homes, such as cracked foundations, landscape erosion, mold in the attic, insect infestation, and more. We offer affordable solutions and services to ensure your gutters work the way you need them to. If you have any worries or concerns, check out our customer reviews to put those to rest.
Contact Us Today About Gutter Repairs
Whether you need expert gutter repair or are looking into a gutter replacement, we can help. Skabelund Roofing has a reputation for exceptional customer service, high-quality materials, and long-lasting results. Utah homeowners should never put off gutter cleaning and repair. Frequent maintenance is key to ensuring your gutters stay in working condition without the need for significant repairs. Contact us today to learn more about our premier gutter services and financing options.
We Take Quality to New Heights