Skip to Content
Spotless Gutter Cleaning in Logan, UT
Gutter Debris Removal in Logan, UT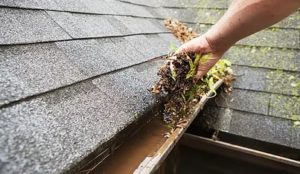 Skabelund Roofing will give your gutters functionality and a new-and-improved shine with our services for gutter cleaning in Logan, UT. Cleaning is provided by our sister company, Skabelund Rain Gutters, which comprises trained and seasoned professionals devoted to client satisfaction. Our cleaning prevents rain and melted snow from damaging your home and livelihood. We perform thorough, careful clean-ups that leave your gutters in better condition than ever before. Contact us today and we'll provide you with a free estimate to get started.
When Do My Gutters Need Cleaning?
We recommend scheduling regular gutter cleaning that consists of a minimum of two cleanings a year. Preventable water damage and repairs cost homeowners a staggering amount of money each year. Potential harm can be avoided by scheduling regular cleanings.
There are a few clear signs that your gutters need to be cleaned. If you observe the following, please feel free to contact us and schedule a cleaning today:
Plants Growing in Your Gutters: Plantlife requires an abundance of rich soil and water to grow and thrive. While plant growth is a positive sign for your lawn, it's a terrible sign of poor gutter conditions. Plantlife in gutters indicates a heavy excess of dirt and water build-up that could break your gutters or produce mold growth. If you notice plants growing in your gutters, you should request a cleaning soon.
Gutters Filled with Leaves and Twigs: Intense storms and inclement weather usually causes leaves, branches and twigs to fall from your trees. While weather damage is a common occurrence, the resulting debris can accumulate in your gutters and clog your systems. We recommend regularly scheduling clean-ups, so your gutter system remains functional and secure year-round.
Water Pooling Around Your Foundation: When a gutter system is clogged, water is blocked from running smoothly through and out. You may notice standing water around your foundation or water leaking into your basement. If you see standing water at your foundation, there's a good chance water is also pooling in your gutters. Regular gutter cleaning will open up your gutters, maintain a proper water flow and prevent soil erosion and leaks.
Pests Infesting Your Gutter System: Do you notice an excessive number of rodents, ants, spiders and other pests around your home? If so, your gutter system may be clogged. Blocked-up gutters are favorable environments for a range of pests, and it won't be long before they invade your home. Routine cleaning prevents pest infestation.
Gutters Sagging or Breaking: Debris build-up adds weight to your gutters, which may eventually cause them to sag and slope unevenly. Excessive weight is highly detrimental to your gutters. Sagging will cause your gutters to bend and potentially snap at their gap and connection points. Excess weight can even cause your gutters to unhinge and break away from your roof. Our cleaning removes weight from your gutters, so they remain intact and safe.
Why Should A Professional Clean My Gutters?
You may be tempted to clean your gutters by yourself, but DIY cleaning has many drawbacks including threats to your safety and property.
We recommend hiring professionals to complete your clean securely and effectively.
Here's what professional gutter cleaners will provide you:
Safety: Gutter cleaning can be hazardous if you don't possess the proper training and experience. Often, homeowners require a ladder to reach their gutters. Standing on a ladder boosts the chances of slipping and falling, which may result in serious injury. Our professional team has the training and skills to perform cleanings safely and effectively, and we perform services adhering to strict safety protocols.
Affordability: You may think that performing a DIY gutter cleaning will save you money, but we've found that this is often untrue. Inexperienced and untrained homeowners are prone to making mistakes that professionals don't, such as pulling too hard on a fragile gutter or not cleaning their system thoroughly enough to be effective. These mistakes will lead to repairs and maintenance that costs more money in the long run.
Convenience: You may have experience cleaning your gutters, but are you sure you want to spend precious time and energy on this tedious task? Our team takes care of your cleaning for you so that you can focus on the more pressing and important aspects of your life. Enjoy your leisure and family time while we take care of removing gutter debris and messes for you.
Our Gutter Cleaning Process
Skabelund Rain Gutters takes the hassle out of removing the year-round pile-up of debris in your system. Our mission is to make your clean-up as smooth and efficient as possible, maintaining the safety of your property from start to finish and boosting its curb appeal.
Here's what our process is like for removing debris from your rain gutters:
We remove leaves, dirt, branches and outdoor debris clogging your gutter system.
Our team removes any unnatural or manufactured debris, such as shingle scraps.
We deploy a heavy-duty vacuum to suck away and clear out any remaining debris.
We flush your system to ensure proper drainage and water flow away from your home.
We'll haul away debris and make sure your property is completely spotless when we leave.
Our team inspects your gutters as we clean to detect signs of damage or necessary repairs.
Skabelund Rain Gutters
We provide our gutter services through our sister company, Skabelund Rain Gutters. Our team is highly trained and exceptionally knowledgeable about gutter installation, repairs and cleaning to our client's complete satisfaction. We've served countless residential and commercial clients with their needs, and we're here to help you next.
Contact Us to Schedule Regular Gutter Cleaning
Scheduling routine gutter cleanings will optimize your gutter system's performance and keep your home safe from preventable water damage. With our cleaning services, your gutters will stay functional and in prime condition throughout the year. Contact us for a free estimate, and our professionals will schedule routine cleanings for your total satisfaction.
Call for a Free Gutter Cleaning Estimate: (435) 363-4856
We Take Quality to New Heights